It's officially party season, which means your work Christmas party is just around the corner. Not sure what to do or what to wear? Rule 101: don't shag your boss. Second, find a fire outfit to make sure you're more lit than a Christmas tree. We've rounded up this quick guide to save you from those "I have nothing to wear" for the office Christmas party mini breakdowns.
Office to bar
Let's face it, just because we're not Bey doesn't mean we can't pull off a fire mini dress. When your office Christmas party is all about the drinks, get yourself a figure-hugging dress if you want to show off your curves. After all, this is your chance before all the Christmas food and binge-eating commences over the Christmas period. Opt for a Bardot style to keep things classic or choose a blazer dress to add an extra edge without over-revealing. These sort of dresses are a sure fire way to suit wherever the night takes you: Consider them good dresses to make bad stories in.
Desk drinking before heading to town? Step away from the emails…Anything you send now will be like a drunk text but 100% worse. You can avoid a f*ckboy… Colleagues, not so much.
Get the look:
The free bar
If you have one of those work Christmas dos where it's a free bar and you just know you're going to end up a little (or a lot) worse for wear, then this is the outfit for you. Stay clear of playsuits and jumpsuits that will only end up testing your patience when you've officially broken the seal and, let's be honest, there's nothing worse than having to completely strip off every time you need a wee. Plus, there's only so many times you can ask 'can you undo my zip for me' to a random gal waiting in the queue. Co-ords keep things fresh when everyone's turning up to the party in dresses.
And if you're one of the lucky ones with a free bar, that guy from accounts that you think is weird, who suddenly looks cute 27 bottles of prosecco in, is not the one hun – run away.
Get the look:
Black tie event
Got a black tie event? Congrats, babe, someone's doing well! Don't dig out your old prom dress or ball gown. You want to look like an absolute boss babe whilst still looking like you're ready to down shots at the bar with your co-workers. Try the ultimate trend for the party season: It's all about soft liquid metallics and lashing of sequins. Maxi and midi dresses are often a little more restrictive than a playsuit or mini dress, so don't feel like you need to keep your hemlines below your knees just because it's a posh do.
But remember, just because your boss is dancing on the table, doesn't mean you should! Another rule 101, stick to the actual ground when you want to have a bit of dance off – especially at a black-tie event. You can thank us later.
Get the look:
The plus one
Your boyfriend has invited you to his work's do. You need to look seriously hot whilst also looking respectable enough to gain some good reputation with his co-workers and bosses. This is the time to add-to-bag a jumpsuit. They give you shape, length and also a bit of integrity in case you end up having a few too many. Vertical striped styles add some height even if you're perfectly petite. Clash your textures with a faux fur jacket to add more glitz and you're good to go. It's really that simple.
Get the look: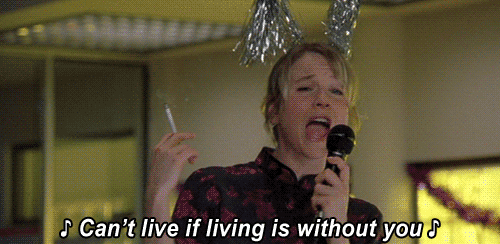 …and one word of warning. If you think karaoke is a genius idea when you're absolutely smashed: think again, babe. Remember the scene in Bridget Jones when she's wearing a tinsel crown, a cigarette in her hand and she's in full-on singing mode, then suddenly Hugh Grant walks in? Don't be that person. There will be no Hugh Grant casually passing by – only your boss. No one wants the office walk of shame when Monday rolls around.
Eat, drink and be Missguided. You're welcome, babe.